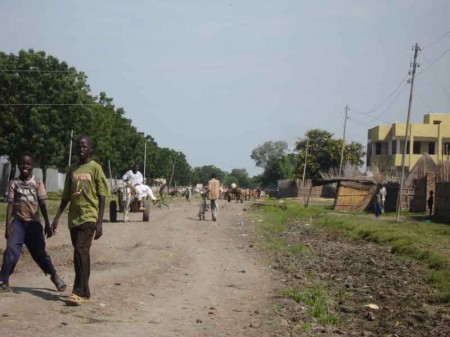 Mary and I returned to Juba on Tuesday.  In less than 24 hours Mary was able to secure a flight to Malakal to participate in the fourth annual celebration of the Comprehensive Peace Agreement (CPA) between southerners and the government of the North.   Its a very big event in the social calendar for Southern Sudan and a great oppurtunity for Mary to promote her music.
Last night I talked with Mary and found out that her performance was canceled due to an outbreak of fighting between members of Shiluk and Dinka tribes.  These members were supposed to be showing off their cultural dances and couldn't agree on who got to go first.  So they decided to skip the dances and jump to the one cultural practice that all tribes seem very familiar with, fighting.
Apparantly there was a lot of shooting and quite a bit of chaos.  Reading one of the news articles and it seems like the issue was a small thing.  The way Mary described it seems quite different.  I guess it can seem like a very big thing if it happens to you and not so important when it happens to others.
Mary is fine.  She was a little worked up last night but has calmed down.  Her and the group she went with is looking for a flight back to Juba today.  They really don't want to stay in Malakal any longer than they need.  She told me this morning there is rumor that there will be more fighting within the town today.
Tribal conflicts in Southern Sudan can get very nasty very quickly.  They really seem to stick to the "eye for an eye" concept.  Lots of revenge attacks that once begin are very difficult to stop.
At least these two were able to stand together without throwing any punches: